There are no translations available.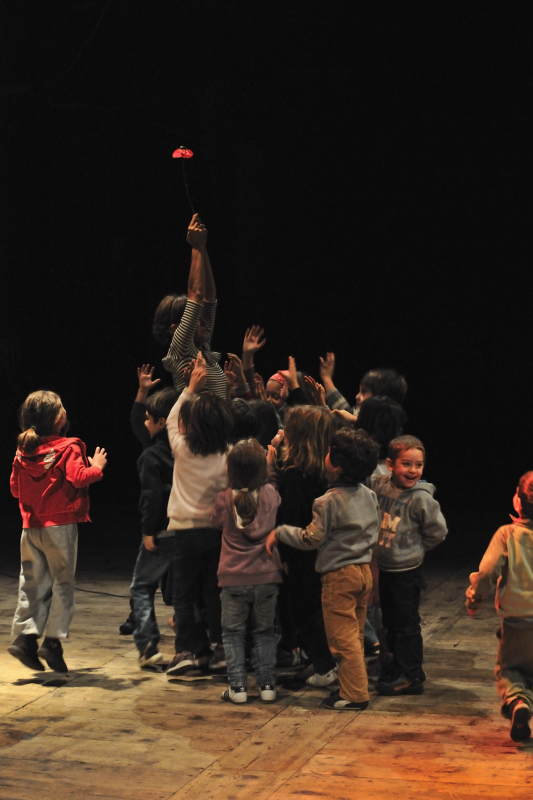 LITTLE WONDERS – for children and their parents between 0 - 100 anni
With Little Miracles we want to offer an alternative form of entertainment for children, focusing on their creative potential and against the dominant norm of passive consumption.
Little Miracles is a project of the cultural association of Takla Improvising Group, active in the Milan region since 1998. Since 2000 they organize several activities to diffuse the practice of improvisation of music, dance, theater, and visual arts. Among others theyhave organized the festival Pulsi, with support of the province of Milan and the patronage of the city and region.
The Little Miracles project was inspired by the success of the November performance Wonderland, a Dutch project involving hundred children and five international performers.
A WAY TO MAKE ART

Little Wonders is the Italian adaptation that premiered on the 12th of February 2011 in Triennale Bovisa. This venue was used in 2010 by Takla to host the tri-annual project Takla Making Arts, which was selected by the Cariplo Foundation as a part of the Bando Etre– residential theatrical experiences. Little Wonders is a dance and live music performance dedicated to the interaction of children with their parents. But it is not so much a performance for children but rather a performance with children offering them a fantastic theatrical adventure. For the parents it is a special experience as well to see their children transform from spectators to performers.
HOW
During the 45 minutes of the performance, the children are spectators in the first part and transform into performers in the second part. The performers will introduce the children to the stage with the help of little strategies, engaging the most eager children first. Everything happens through non-verbal communication and once on stage the children become real and true scenic bodies, having dialogues and communicating with the performers.

TECHNICAL ASPECT
Ample space is needed to accommodate all participants and spectators in a semi-circle. Children and adults should be on the same level as the performers, the floor needs to be smooth such as linoleum or wooden floors. There is no special lighting scheme because the performance is improvised so whoever controls the lights will have to improvise along with us. Lights are needed for the drums and accordion and if possible a spotlight or color spotlight. In any case there should be no lights on the floor for safety reasons.
COSTS
The cost of the performance is compared to the number and the typology of the artists.
ARTISTS
Cristina Negro (danza)
Filippo Monico (batteria)
Silvia Urbani (danza)
Hiroyuki Nakajima (pittura)
Antonello Cassinotti (attore)
Giselda Ranieri (danza)
Paola Lattanzi (danza)
Paola Giuliante (fisarmonica)
Beppe Scardino (sax)
Claudia Caldarano (danza)
Elisa Fontana (arte visiva e installazioni)
Elia Moretti (vibrafono)
Claudia Catarzi (danza)
Gianluca Elia (sax)
LOOK THE VIDEO
To catch the amosphere of the performance, here you are some link to tree short video in different situation and with different artists. That's the peculiarità of Piccole Meraviglie, it is every time new with different artists, different languages and different results. http://www.youtube.com/watch?v=tJEyzT4-sv4&feature=player_embedded
http://vimeo.com/30904105

LISTEN THE INTERVIEW (at the end of the link page)
http://www.takla.it/takla/index.php?option=com_content&view=category&layout=blog&id=19&Itemid=54&lang=it
WATCH THE PHOTOS
http://www.takla.it/takla/index.php?option=com_content&view=category&layout=blog&id=17&Itemid=52&lang=it&limitstart=32
NEXT DATES:
- 22 jennuary 2012: Triennale Bovisa- Milano
- 29 jennuary 2012: Teatro Duni - Matera
- 12 February 2012: Bloom Bloom Bambini – Mezzago
- 12 February 2012: Triennale Bovisa
- 26 February 2012: "Libri in scena" rassegna organizzata da Scarlattine Teatro
- 2 March 2012: "Festival Luoghi Comuni 2012" – Bergamo
- 3 March 2012: "Festival Luoghi Comuni 2012" – Bergamo
- 1 April 2012: Saletta LAB – Triennale di Milano
- 4 May 2012: Teatro dell'Arte – Milano
- 9 june: Triennale di Milano- Milano
- 20/21 july: "Bolzano Dance Festival" - Bolzano
- 7 september: Triennale di Milano- Milano
- 6/7 october: "Tuttestorie Festival" - Cagliari
- 14 october: Triennale di Milano- Milano
- 18 november: Triennale di Milano- Milano
- 27 jennuary 2013: Teatro Officina - Milano
- 17 of february 2013: Campo Teatrale - Milano
ARTISTIC DIRECTION CURRICULUM
Cristina Negro (Milan, 1963)
Dancer, choreographer, teacher. Degee in Moder Literature. She studied in Italy and France with Teri Weikel, Roberto Castello, Carolyn Carlson, Francoise e Dominique Dupuy. She is the vicepresident of the Takla Improvising Group. She danced with, Peter Kowald, Barre Phillips, Julyen Hamilton, Wilbert de Joode, Roberto Masotti, Cristian Calcagnile, Giancarlo Locatelli, Edoardo Marraffa, Roberto Bellatalla, Federica Fracassi.
Filippo Monico (Milan, 1955)
From the 70es he collaborated with Guido Mazzon, Gaetano Liguori, Giorgio Gaslini, Massimo Urbani, Danilo Terenzi, Paolino Della Porta, Enrico Rava, Paul Rutherford, Lester Bowie, Don Cherry, Steve Lacy, Evan Parker. He recorded alost 20 cds with different musical bands. He collaborate in DanceTeatre performance with the choreographer: Susanna Beltrami , Adriana Borriello and with director such as: Elio De Capitani, Renzo Martinelli, Giorgio Barberio Corsetti. In the last years he is doing jazz improvvisation in performance with dance, paintings, poetry, theatre and video, for exemple with "Paolo Botti Quintet", or "Hilarity Workshop" di Steve Piccolo or with the group "Unit" of Biggie Vinkeloe, and in performances with dancer like: Julyen Hamilton, Giorgio Rossi, Alessandro Certini Peter Kowald, Elliot Sharp, Wilbert De Joode. He is the composer of the"Takla Jazz and of the group "N.E.S.O."(4 percussionists from Europa, Asia, Africa, America). He is the president of Takla Improvising group and he organized workshop, concert, festival and performance for adult and children.